Meet the New Director of NSO
The Nordic Society Oikos welcomes Johan Nilsson as the new Executive Director of the NSO office, taking over the role after Linus Svensson's remarkable three decades of leadership. Johan officially began his new position on November 1st, but he has been with the office for the past 11 years as Managing Editor of the Journal of Avian Biology. (Stepping into Johan's former role at the journal is Michael Tobler, who is NSO's production editor and society coordinator. Stay tuned to meet Michael soon.)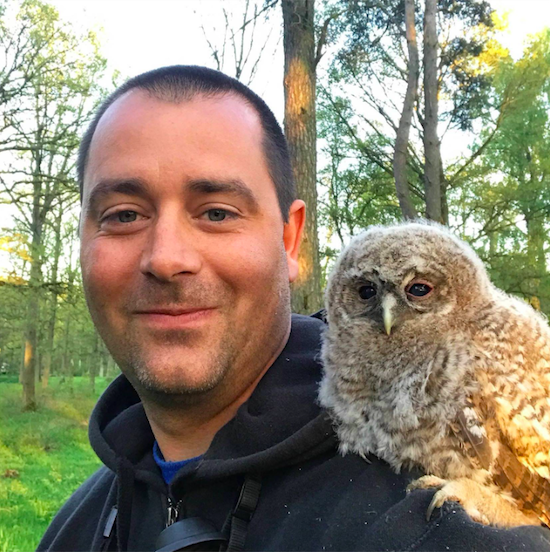 Johan is also a researcher at Lund University in Sweden, focusing currently on tawny owls and human impacts on the species. We talked to Johan about his plans as director of the office—and yes, about owls, too.
First, please tell us about your owl research!
We study human impact on tawny owl behavior, movements, and breeding success. This is a species that lives happily, or we think happily, among humans. So we're trying to understand what impact living close to humans has, and doing that with a holistic view: looking at everything from tracking them to pesticides to life history, to get the whole picture of how they are affected and what we can do to mitigate any problems there might be.
How would you describe your new role, in brief?
The role as executive director is to lead the office, to make sure on one side that our team is very functional and happy with the work, and on another side that our journals and the society keep adapting to the changing world; being eyes to see where change is happening, and trying to adapt to that.
How will you approach the challenge of adapting to change?
The publishing world was very stable for a long time, but now we are seeing really fast development in all areas, with Open Access and other initiatives transforming the landscape. During my 11 years in the office, I feel that more has happened in the last two years than in the previous eight or nine years. It's not only Open Access; it's a lot more complex for authors to submit a paper nowadays, as well. There's so much more to a paper today than there was 11 years ago.
I need to ensure that we are not only reacting to these changes, I want us to lead many of these changes. We have three out of five journals that are Open Access at the moment, and it's very clear that all our journals are going in that direction. It's not a matter of if, it's when it will happen. So part of the job is to try to move our journals over to Open Access in a responsible way. Open Access is great, but it also can create inequality based on financial resources. I want us to focus on equity and fairness, looking into the problems that we know exist in publishing. I want to see us pushing initiatives trying to minimize the bias that's there. We've already done a lot of that, but there's much more of it that we can do.
What is it like to operate as a virtual office these days?
In one sense we've always been virtual, because we work with the world: our publisher is in the UK and Denmark, our typesetter is in Ireland and India, and our societies are in five different countries. Before the pandemic we came into the office two days a week, and with the pandemic we went completely virtual. It wasn't such a big step for us compared to many, so we got to see the benefits of it. For example, when we recruited for the new managing editor for Nordic Journal of Botany, we could just pick the best candidate; she happened to live in northern Sweden and not in Lund. We have people working with us now in the US and the UK. For an office situated in a small place like Lund, it can be a benefit that you can involve people from anywhere.
How do you see the NSO office and journals serving the national societies and our members?
NSO is here for the national societies, our office is here for the members, these are the members' journals. As director I want to build that feeling in the society. A big part of our work is running the journals, but NSO is much more than that. We want to have a strong connection between our staff and the national societies and stay tuned into how we can serve the members better. That will include attending as many national meetings as we can, to talk to members and national society leaders there and then.
The journal staff are always involved at NSO conferences, but there is more we can do to serve our members both at conferences and between conferences. We have already begun giving workshops in publishing, and I would like us to provide more of those kinds of services. We have an open call for members to tell us what you would like to see us do, because we are there for you. Please contact NSO at info@nordicsocietyoikos.org.
Photo: Kennet Ruona