Adventures in Aarhus at Nordic Oikos 2022



The biennial conference of the Nordic Society Oikos was an especially exciting gathering this year, after the two years of pandemic-induced isolation that followed NSO's last conference in early 2020. Titled "Ecology and Evolution for a Changing World," Nordic Oikos 2022 was hosted by Oikos Denmark at Aarhus University on June 7–10, 2022. The joint conference of the five Nordic ecological societies is held every second year, alternating with national meetings hosted by each of the societies in their respective countries (all held virtually in 2021).
That's a wrap for #NordicOikos2022! Thank you so much to all participants for your inspiring contributions - we hope that you take many good ideas & impressions with you. It was great to be #OikosTogether again! pic.twitter.com/hBmCH2vJwH

— OikosDK (@OikosDk) June 10, 2022
The conference featured keynotes by Aveliina Helm (University of Tartu, Estonia), Jacintha Ellers (Vrije Universiteit Amsterdam, The Netherlands), Gergana Daskalova (University of Edinburgh, United Kingdom), Yvonne Buckley (Trinity College Dublin, Ireland), Tom Gilbert (University of Copenhagen, Denmark), and Kai Finster (Aarhus University, Denmark).
Involved in the event were 233 participants, 200 of whom attended in person while 33 more Zoomed in from other parts of the world. Over the week of the conference, an array of presenters delivered a total of 59 twenty-minute oral research presentations and 39 five-minute oral research presentations.
Really loving the amazing talks at #NordicOikos2022! From microclimates in the arctic tundra @JoovonOppen, to the dung of large herbivores in Denmark @EmilEllegaardT1, and even the impacts of megaherbivores on invasive plants in India @ninad_mungi pic.twitter.com/0OiG5uhOQx

— Celesté Maré (@C3l3st3Mar3) June 9, 2022
Speakers were organized under the themes "Adaptations and interactions in changing environments," "Ecosystems through space and time," "Restoration and landscape prioritization," and "Methodological advances." An additional Meet the Locals session introduced participants to the work of Aarhus University researchers Laura Stidsholt, Elizabeth Le Roux, Signe Normand, and Toke Thomas Høye.
Alongside the oral presentation sessions, two poster sessions featured a total of 47 posters. NSO sponsored a new Best Poster prize that was awarded to Helene Sandsten, Celesté Maré, and Sonya Geange. 
Multiple participants mentioned that the conference was welcoming for students and scientists near the beginning of their careers, noting "a lot of interesting research presented by people of many different career stages" and "great focus on contributions from early-career researchers."
Warm congratulations to @SandstenHelene, @C3l3st3Mar3 and @sonyageange for winning the three #PosterAwards at #NordicOikos2022 - great work! pic.twitter.com/Uo8cy4388y

— OikosDK (@OikosDk) June 9, 2022
The week of presentations was kicked off by a day of workshops on Scientific Dissemination, Reproducible Research, KrigR, and other topics. The opening day concluded with an exclusive insight into the workings of the five NSO journals—Oikos, Ecography, Journal of Avian Biology, Nordic Journal of Botany, and Wildlife Biology—provided by a panel of the journals' editors in discussion with the audience.
Data archiving, Open Access, transparence, diversity, handling times, peer review....@_Jni_ digging deep into the publishing world at Meet the editors at #NordicOikos2022. @WildlifeBiol @AvianBiology @EcographyJourna @NordicOikos @NordicJBotany #OikosTogether pic.twitter.com/HbdFcMGZ4E

— Oikos (@Oikos_Journal) June 7, 2022
A plethora of social gatherings and outdoor excursions rounded out the four-day conference. "The atmosphere was phenomenal," one participant commented. "The size was excellent for getting to meet people," another attendee noted. "I really enjoyed meeting colleagues and friends again in person," wrote another, expressing a sentiment held by many.
Finished a nice trip with a hike up on #himmelbjerget, one of 🇩🇰's highest points. Enjoyed the great view and nice company!#OikosTogether #NordicOikos2022 pic.twitter.com/9fsYULQ2Jg

— OikosDK (@OikosDk) June 10, 2022
The conference committee appreciated the enthusiasm of all participants, as well as their patience in the face of ever-evolving COVID-19 concerns (which caused the event to be postponed from its original dates in January) and the formidable technological challenges of addressing virtual and physical logistics in tandem.
One attendee summarized the conference thus: "Great venue, helpful and friendly support staff, diverse vegetarian food(!), great pre-conference workshops, high quality of presentations." 
Awesome #vegetarian food at #OikosTogether - very much appreciate that the organizers think tasty & climate friendly 😋 💚 pic.twitter.com/I9xPtYj4Ea

— TumbleweedFieldNotes🇺🇦 (@TW_FieldNotes) June 8, 2022
The next conference, Nordic Oikos 2024, will be held in Sweden. Details to come.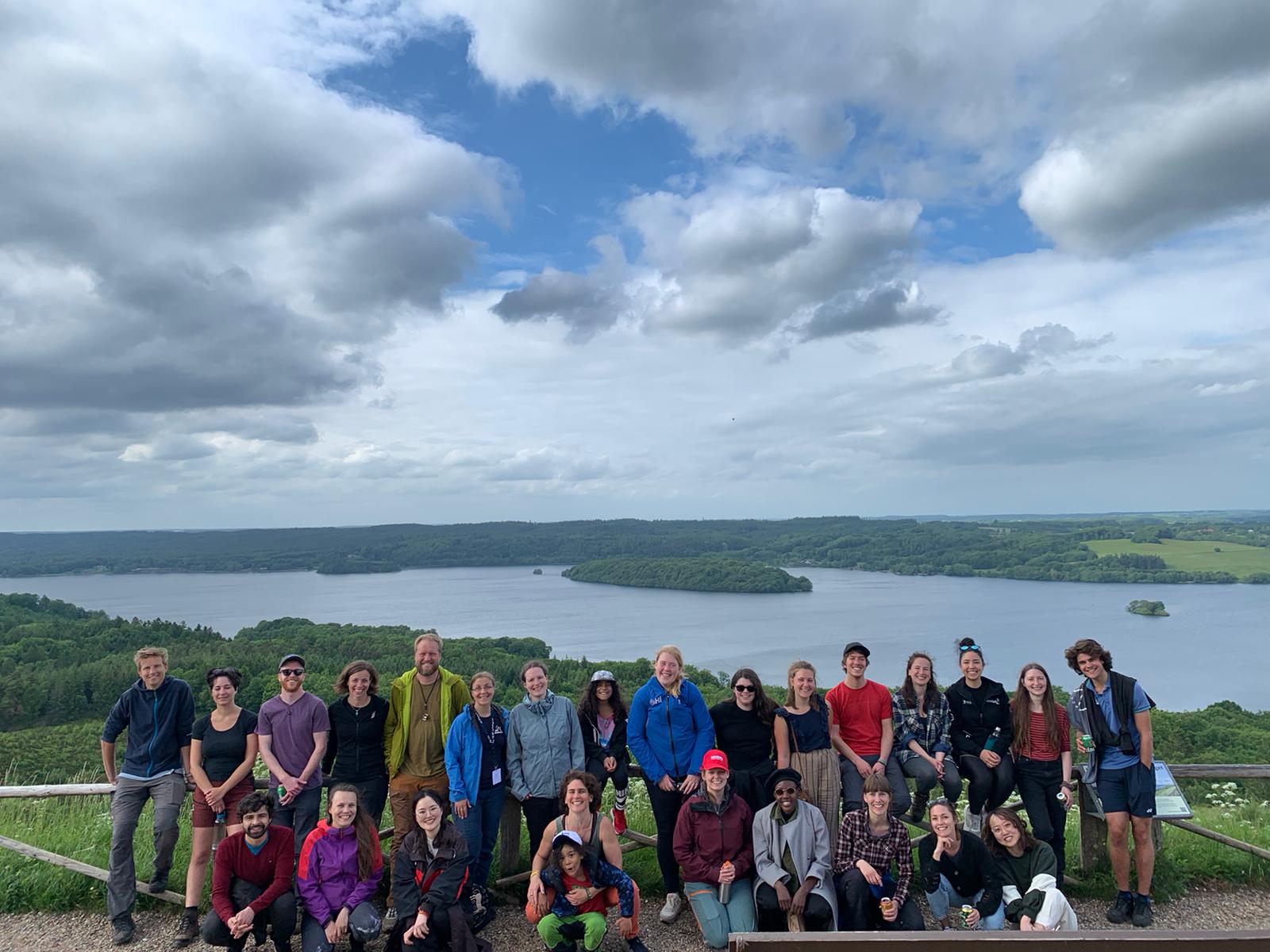 Photos by Jonathan Von Oppen