Conference Recap: VISTÍS 2021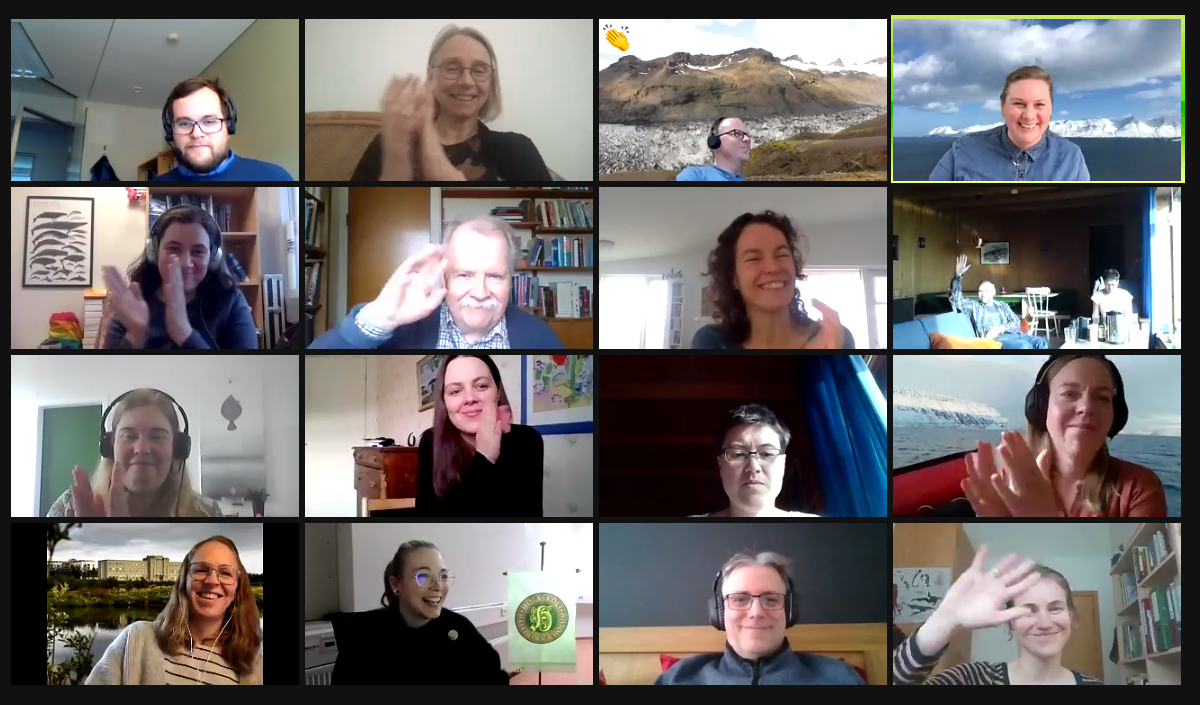 The Icelandic Ecological Society (VISTÍS) held its eighth conference on April 16-17, one of the five Nordic ecological conferences hosted this spring 2021 by the national societies of the Nordic Society Oikos. Moving the event to Zoom was a big change from the in-person format of the Icelandic society's previous annual conferences, including the biennial NSO conference that VISTÍS hosted in Reykjavík last year. But the effort of that transition paid off.
The virtual meeting was a resounding success, with "an absolute record" of 150 participants and "far more contributions than we expected," said VISTÍS chair Freydís Vigfúsdóttir. To accommodate the unexpected volume of submitted abstracts, the conference organizers moved the pre-conference biologging workshop with Lucy Hawkes to a later date.*
*Update: 47 people attended the highly successful biologging workshop on April 30. VISTÍS reported "a clear message from participants that workshops like this are of great value for the members of our society across national borders."
 
We are #OikosTogether today and tomorrow, hosted virtually by the Icelandic Ecological Society @Vistfr! Starting now is a seminar on invasive plant species in Iceland's terrestrial ecosystems—kicking off with speakers Þóra Ellen Þórhallsdóttir, Dan Simberloff, and Anke Jentsch. pic.twitter.com/DUM1BTSFWV

— Nordic Society Oikos (@NordicOikos) April 16, 2021

"This shows first how brilliant online meetings are, but also how active the ecological society is," Vigfúsdóttir said. With an organizing committee led by Guðbjörg Ásta Ólafsdóttir and a scientific committee led by Edda Elísabet Magnúsdóttir, the conference attracted presenters and participants from across Iceland, the Nordic region, and beyond, including international invited speakers.
 
Tune in at 12.15 today to check out the zoology poster session at #vistis21 including my poster on interspecific interactions between pilot whales and killer whales #oikostogether @vistfr @NordicOikos @icelandic_orcas

Or check out all the posters here:https://t.co/tlyLorVcum pic.twitter.com/VoB7dSFwc2

— Anna Selbmann (@annaselbmann) April 17, 2021

The 74 scientific contributions consisted of 57 talks in 10 sessions, plus 17 posters, all orchestrated with impressive smoothness and efficiency. Session topics included Conservation and Climate Change, Terrestrial Ecology, Biodiversity, Evolution and Development, Zoology, Marine and Freshwater Ecology, and Behavioural Ecology.
 
Closing out the first day of this thought-provoking conference with a call to come together on behalf of Iceland's biodiversity. Check out the initiative here: https://t.co/0HlT4PlCCK. @Vistfr #OikosTogether

— Nordic Society Oikos (@NordicOikos) April 16, 2021

Additional sessions of short talks covered subjects ranging from whimbrel calls to entomological machine learning to Arctic char behaviour. Posters were presented by video abstract, with presenters on hand to answer questions in individual Zoom rooms.
 
Had the chance to give a short talk on #socialperception and involving stakeholders in my research 🐟 Thank you to @vistfr for hosting a great online conference!#oikostogether https://t.co/GJ4vzZVvgh

— Theresa Henke (@TheresaHenke2) April 17, 2021

Highlights from invited experts included Ingibjörg Svala Jónsdóttir's illuminating plenary on past, present, and future challenges of Arctic terrestrial ecology. In a special session on invasive plant species in Icelandic terrestrial ecosystems, speakers Þóra Ellen Þórhallsdóttir, Daniel Simberloff, Anke Jentsch, Pawel Wasowicz, Kristín Svavarsdóttir, and Guðrún Óskarsdóttir discussed everything from the spread of Nootka lupine to the global context and future of plant invasion. A rewarding panel discussion followed their presentations.
 
2nd day of Oikos meeting on Iceland kicked off! Plenary now by Inga-Svala Jonsdottir. #OikosTogether @vistfr #VirtualConference #AcademicCovidLife #PhDChat pic.twitter.com/kQMZSsxXP9

— Nordic Society Oikos (@NordicOikos) April 17, 2021

With attendees logging in from Iceland and around the world, the conference kindled a sense of community connection during this second pandemic spring, in the spirit of the #OikosTogether initiative spanning all of the 2021 NSO conferences. More than half of those who Zoomed into the free conference were nonmembers, all warmly encouraged to join the society to receive member benefits and take part in supporting future society activities.
 
Awesome #conferencedinner at #vistís2021 with @KolbruniH and Agnes-Katharina@vistfr @NordicOikos pic.twitter.com/G7I23tNHiI

— Leivur Janus Hansen (@LeivurJanus) April 16, 2021

You can still check out the program (complete with recordings of some sessions) and posters (with video abstracts). Learn more about this spring's virtual meetings and join us for our next conference hosted in Norway on May 5-6!